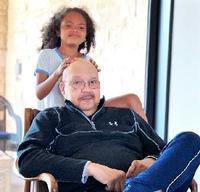 Bernard "Bernie" Warren Washington
Novermber 29, 1951 - November 28, 2021
Born on Nov. 29, 1951, in Beaver Falls, Pa., Bernie Washington unexpectedly passed away on Nov. 28, 2021, at Providence Alaska Medical Center in Anchorage, Alaska.
He is survived by his wife of 46 years, Debbie; son, Christopher Washington (Kia) and granddaughters, Parris and Gabriella of Denver, Colo.; daughter, Tricia Levesque (Joel) and granddaughters, Justice and Honor of Atlanta, Ga.; and brother, Vincent Washington (Dawn) and niece, Sarah of Wilbraham, Mass. Bernie was preceded in death by his parents, Robert and Maxine Washington of Beaver Falls.
Bernie graduated from Beaver Falls High School in Beaver Falls. He went on to receive a Bachelor of Science in mining engineering from Penn State University and a Master of Business Administration from Pepperdine University in Malibu, Calif. Bernie's career began with Atlantic Richfield Company in Los Angeles, Calif., he and Debbie subsequently lived in Denver before moving to Anchorage in 1982. Before retirement, Bernie was the CFO of Alaska Public Media for several years.
He loved helping people and was an ardent supporter of the nonprofit ecosystem in Alaska. Over the years, Bernie was a board member of The Foraker Group, United Way, Cyrano's Playhouse and Bean's Cafe.
He enjoyed spending time with family and friends at Big Lake, Alaska; he found particular joy playing with, or FaceTiming, his four granddaughters. He loved movies, Star Trek and he even got into Game of Thrones in recent years. He was a lover of all types of music - from Black Sabbath to gospel - played the trumpet and was learning the guitar.
Bernie's love for life was infectious, and his laugh would brighten the darkest room. He was loved by his family and friends and will be dearly missed.
A memorial service will be held on Friday, Dec. 3, 2021, from 6-7 p.m., at Shiloh Baptist Church, 855 E 20th Ave., Anchorage, AK 99501. Masks required.
The family will hold a separate memorial service in his hometown of Beaver Falls in 2022.
In lieu of flowers, the family requests that you consider a donation to one of the following organizations: The Foraker Group, Bean's Cafe, Cyrano's Playhouse or Alaska Public Media.