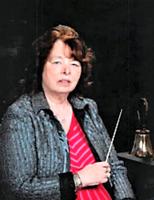 Linn Ellen Schmidt
October 13, 1950 – December 23, 2021
Our beloved Linn E. Schmidt passed away December 23, 2021 at Providence Hospital Center in Anchorage due to complications of dementia.
Linn was born October 13, 1950 in San Antonia, Texas, to parents Betty and Delmore Schmidt. Her family moved to Anchorage in 1952. She helped build three family homes near the intersection of Boniface and Tudor Roads and worked a summer family fish camp in the North Kenai area.
Linn graduated from East High School in 1968 and attended Alaska Methodist University. She married Joe Seidel, October 2, 1976 and they celebrated 45 years of marriage. She worked for the Alyeska Pipeline Service Corporation and the Anchorage School District until her retirement in 2013.
Linn attended Anchor Park Methodist Church and later joined Immanuel Presbyterian Church. She was a member of the Pioneers of Alaska, Handbells of American and the Senior Center of Alaska.
Linn discovered her love of handbell music in 1981 and went on to become the Founder/Director of the Notable Camai Ringers handbell choir from 1990 – 2020 and the sound of the Scouting Handbell Choir from 200 – 2014.
She enjoyed many hobbies and spending time with her family.
A memorial service for Linn is scheduled from February 5, 2022 at Immanuel Presbyterian Church at 2:00 pm, officiated by Reverend Ellen Johnson-Price. Interment will be May 20, 2022 at Angelus Memorial Park in Anchorage, at 1 pm.
Linn is survived by her loving husband, Herman Joe Seidel, daughter Nitra Barnes (Ben), son Padriac, and granddaughter Ashlyn Barnes; also sisters Gayle Young, (Sitka, AK) and Artemis BonaDea (Gustavus, AK)
From Jannsen Funeral Home, Anchorage, Alaska