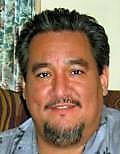 Ted B Cain
November 13, 1961 - March 10, 2007
Ted B. Cain, 45, died March 10, 2007, at his home in Girdwood.
A memorial service will be at 9 a.m. Thursday at Alaska Cremation Center, 3804 Spenard Road. Ted's father, James Hughey, will officiate.
Ted was born Nov. 13, 1961, in Fairbanks. He graduated from Barrow High School in 1980.
He worked for ASRC Energy Services.
He enjoyed fishing and golf.
His family wrote, "Ted loved his family - and especially loved spending time with 'his girls'!"
He is survived by his parents, Betty and Jim Hughey; grandparents, Bruce and Jennie Nokapigak; wife, Hildie Cain; daughters, Sydney, Kristina and Gabbie Cain; sisters and brothers-in-law, Donna and Erik Johnson, Cora Mae and Maasak Leavitt, Deb and Will Stout, and Marie and Tom Ireland; mother-in-law, Lorraine Hartwig; sisters-in-law and spouses, Heidi Hartwig, Karen and Scott Womack, Joann and Steve Salkowicz, and Cathy and Fred Hartwig; aunt, Jane Brower; uncle, Kenneth Toovak Sr.; and many neices and nephews.
Published by Anchorage Daily News on Mar. 14, 2007.