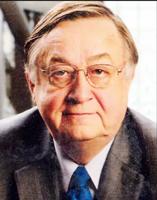 Dennis Nottingham
November 17, 1937 March 11, 2022
Dennis Nottingham, 84, of Carter, Montana, passed away on March 6th, 2022. A Funeral Service will be held on Friday, March 11th, 2022, at 2pm in the Rose Room Chapel at Croxford Funeral Home with Burial to follow at Carter Cemetery, Carter, MT.
Dennis was born on November 17, 1937, to Wesley Nottingham and Ellen Mosser in Carter, Montana. In 1955, he graduated from Fort Benton High School.
As a young adult, Dennis chose to follow in many of his ancestor's paths as carpenters and graduated from Montana State College in 1960 with a master's degree in civil engineering. Having the background in wood working made Dennis incredibly successful at his field of work. He thrived at a large variety of projects, spanning from building and inspecting wooden bridges, designing metal boats, and professionally diving for the Alaska State Troopers. With 50 years of professional experience, Dennis received the "Hard Hat Award" by the Association of General Contractors, as well as the "Nova Award" for his Bulkhead invention. This invention has been used worldwide on over 200 structures.
During his time spent in Anchorage, Alaska, Dennis met the love of his life, Margarete. The couple married in Reno, Nevada in 1990 and happily spent 32 years together. They were blessed with several children, Edward, William, Gabriel, Samuel, and Henry. He had three children from a previous marriage, Todd, Quin, and Lori.
In his free time, Dennis enjoyed hunting, fishing, and geology.
Dennis is survived by his son, Todd, and his wife, Alice Nottingham, and their children, Morgan, Kyle, Alyss, and Kiley Schlichting, Ryan Nottingham, Jimmy Leonard, and Wesley and Scott Graff; other sons, Quin, Edward, William, Gabriel, Samuel, and Henry Nottingham; daughter Lori (Dale) Sams; and brother Dean Nottingham.
"Lives of great men all remind us we can make our lives sublime, and, departing, leave behind us Footsteps on the sands of time; Footsteps, that perhaps another, sailing o'er life's solemn main, a forlorn and shipwrecked brother, seeing shall take heart again. Let us, then, be up and doing, with a heart for any fate; still achieving, still pursuing, learn to labor and to wait."- an excerpt from A Psalm of Life by Henry Wadsworth Longfellow
To share condolences, please visit www.croxfordfuneralhome.com.
:Published in Great Falls Tribune, on March 10, 2022
========== Some Additional Details ======================
Mr. Nottingham moved to Alaska in 1962, in time for the Trans-Alaska Pipeline System (TAPS). His academic background and knowledge of structures combined with geotechnical engineering was put to use immediately on the TAPS project, in particular the Yukon River Bridge. This one-half mile long orthotropic steel box girder bridge won for Mr. Nottingham the top Lincoln Arc Welding Award in the United States for innovative use of welding in bridge construction. This bridge incorporated probably the first use of low-temperature steel and seismic design 20 years ahead of its time. In fact, current seismic codes are just now reaching the sophistication used in the design of the Yukon River Bridge.
The Yukon River is the largest river system. It is 2000 feet across. The Yukon River Bridge is a half-mile longer than the width of the river. The pipeline is built onto the bridge and over the river for several reasons. During spring break-up, there is five feet of thick ice, where in other northern regions it is normally 3 to 4 feet. This creates large ice forces against the bridge. There is enormous flood potential. Gravel and stream bed material overaly the bedrock, which wash away during a flood. For this reason, the support piers are drilled in bedrock. In addition, there is permafrost on each side of bridge. Permafrost is ground that is frozen at 32 degrees continuously for two or more years. The permafrost near the bridge is colder, and remains stable if not disturbed.
The Yukon River Bridge is a dual highway pipeline bridge. Nottingham had to design it to carry two pipelines, one for oil and the other for natural gas, and for the transportation of heavy loads. The Haul Road is intended to haul materials and supplies for oil fields, which means there is a lot of sustained truck traffic. The Yukon River Bridge was designed to sustain all these factors.
The TAPS project was on hold due to legal disputes. He went to Houston, Texas in 1973 and worked on other elements of the pipeline design. Nottingham remained a consultant to Alyeska for the Yukon River Bridge. The State Department of Highway continued with the construction of the bridge. Ghemm Construction Company in Fairbanks won the bid for building the bridge. Following the Yukon River Bridge construction, Nottingham developed concepts for other bridges in Alaska. After 1976, he reconstructed some access bridges along the Pipeline.
Nottingham was not on the construction site. During construction of the Yukon River Bridge, he was a consultant for Alyeska. The Yukon River Bridge has a 30-foot roadway. It has the tallest piers, which rise 120 feet above the river and extend another 70 feet down to the river bottom. The life of the bridge will last a century. The Yukon River Bridge is built to resist ice forces (1300 tons of ice force for each pier). Nottingham needed to build a support system that would withstand extreme circumstances (seismic activity and ice forces).
From: The Dalton Highway: A Multi-Media History of Alaska's Arctic Road