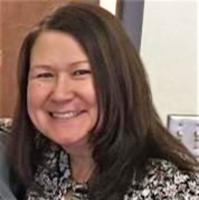 Georgiann D. Kannenberg
October 10, 1971 - April 26, 2022
Georgiann D. Kannenberg passed away Tuesday, April 26, 2022, in Wichita Falls, Texas at the age of 50. She is the daughter of James Roland Thompson and Anna David. Georgiann was born on October 10, 1971, in Bethel, Alaska.

A memorial service will be held 10 AM, Saturday, April 30, 2022 at Coker Funeral Home in Jacksboro, Texas.

Georgiann obtained her Bachelor's Degree from the University of Alaska Fairbanks and worked in Human Resource for many years. She was an avid golfer and loved to cook. She will truly be missed by those who loved and knew her.

Georgiann is preceded in death by her maternal grandparents, Nicholas and Annie David and paternal grandparents, Jeff and Ada Lowrie.

Those left behind to cherish her memory are her parents, JR Thompson and Anna David; partner, James Kreider; his children, McKenzie Faccioloi, Madison Kreider, Wallace Kreider, grandson James; brothers, Robin Thompson, John David Thompson, and Steve Thompson; sisters, Valerie Davidson, Kristi McEwen, and Elizabeth David; and a host of cousins, nieces, and nephews.

There will also be services held in Bethel, Alaska later this summer.
Coker Funeral Home, Jacksboro, TX