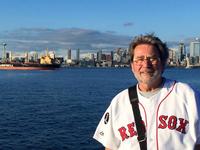 Kenneth "Ken" Edward Doughty
Jul 23, 1949 - Jan 30, 2022
Ken Doughty, 72, passed away at his home in Chugiak, Alaska, in early 2022.
Ken was born in Hyannis, Mass., as the second youngest of nine children. He graduated from high school in the Cape Cod area as an accomplished athlete and trumpet player.
After graduation, Ken enlisted in the U.S. Navy, where he proudly served his country for six years aboard the USS Koelsch as an electronics technician. During his service, Ken was awarded the National Defense Service Medal.
After his honorable discharge from the Navy, Ken was employed with Rockwell International, and had the opportunity to travel the world working as a defense contractor. It was during his time in Europe that he met his wife Pat.
After traveling for many years, the family came to Alaska in 1985. Ken began working for Alyeska Pipeline in 1986, and was relocated to Valdez, Alaska. He was one of the many responders to the 1989 Exxon Valdez oil spill.
Ken loved the Boston Red Sox, car racing and coaching his son's soccer and baseball teams.
He is predeceased by his parents, Clarence and Pauline; and sisters, Alice, Betty, Verle, Dot and Sandra. He is survived by his wife, Pat; and children, Karen, Kristen and Kevin.
He is also survived by his first wife, Linda; and daughter, Trisha.
The family held a private service in June 2022, on the East Coast.