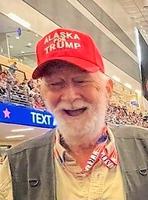 Russell Edward Harvill
November 26, 1949 - September 23, 2022
Russell Edward Harvill of Laurel, Mississippi passed away on Friday, September 23, 2022 at his home while under the care of family and hospice. A graveside service was held at Newton National Cemetery on Thursday, September 29th at 12:30 p.m.
Russell was born on November 26, 1949, in Pine Bluff, Arkansas to the late Kathleen Bradford Harvill Pledger and John Jefferson Harvill. He graduated from Bridge City High School in 1968; after which he joined the U.S. Army, serving from 1968 to 1973 in the US, Korea, and Germany as a Hawk missile repairman obtaining the rank of Staff Sergeant / E-6.
Starting in 1980, he worked on the Alaskan North Slope for Alyeska Pipeline Service Company located out of Anchorage, Alaska. He retired in 2007 and moved to Laurel, Mississippi.

Russell was preceded in death by his parents. He is survived by his daughter Kathleen Rose Harvill Lippert (Joseph) of Dallas, Texas; his step-mother, Jane Risher of Polkville, Mississippi; one sister, Mary Kathleen Harvill Neason (Henry) of Mosheim, Texas; one brother, John David Harvill (Nanette) of Anchorage, Alaska; step-siblings, Tommy Smithhart, John Smithhart, David Smithhart, and Amber Smithhart Whitehead; along with numerous nieces and nephews.
Memory Chapel Funeral Home, Laurel, MS
---------------------Corporate Communications----------------------
It is with regret that we inform you of the passing of former Alyeska employee Russell E. Harvill on Friday, September 23. Russell joined Alyeska on March 31, 1980, as a Pipeline Technician, spending most of his career at PS01, and retiring June 10, 2007. Russell had just wrapped up a visit to Alaska this summer, enjoying wonderful time with family, sharing some great road trips with his brother, and catching up with his Alyeska friends.
----------------------------------------------------------------------------------