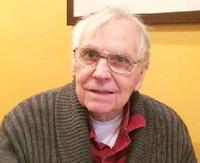 Donnis Eugene Walters
November 21, 1931 - October 15, 2022
Donnis Eugene Walters, "Don," left this earth on Saturday, Oct. 15, 2022, surrounded by his family. He was born on Nov. 21, 1931, in Los Angeles, Calif., and raised by his beloved grandparents, Sidney and Celia Wineinger in Lincoln County, Colo. Don lived an adventurous life in his early years that included working for the U.S. Forest Service, hitchhiking across the country, and serving his country in the Armed Forces. He had a highly intelligent and curious mind. He attended Temple University, Westminster Theological Seminary, and eventually graduated from Montana State University with a degree in mathematics.
He met his wife, Nancy, in Philadelphia, Pa., where they married and had their first daughter before heading west to Montana to teach school and grow their young family. During his years in Montana, Don became an avid fly fisherman and enjoyed fishing for brown trout in the Madison and Gallatin Rivers surrounded by the Spanish Peaks.
In 1973, he moved his family to Anchorage, Alaska. He found work as a postman, delivering mail to his neighbors in Airport Heights. He was eventually hired by Alyeska Pipeline and worked in the Engineering Department performing calculations during pipeline construction. Once the pipeline was built, he worked as an operator at several pump stations. He continued working for VECO, and ASRC after his career as a pipeliner came to an end.
Don lived a full Alaskan life, taking his wife and children on many adventures. He taught his children to drive on the Denali Highway, took them fishing in Prince William Sound, hiked with them along the Resurrection Trails to their favorite cabins on Swan Lake. He taught his children to hunt and fish. He was a great fisherman. He would hold his children by the hand, and tip toe up to the edge of the stream to keep from "scaring the fish," help them tie a fly on the end of their line and tell them just where to cast. "Cast just over there, and let they fly drift down to the shaded area where the water is cool and still."
Don was a man of deep faith, a devout Christian. He invested much of his life to understanding the teachings of Christ and Christian theology. He was well-read, an avid writer and devoted much of his time to his church family at Covenant Bible Church in Chugiak. Alaska.
Don will be greatly missed by his friends and family and will be remembered with great love and joy. He is preceded in death by his grandparents, Sidney and Celia Wineinger; mother, Ada Walters; and beloved Labradors, Al, Extra and Kona. He is survived by his wife, Nancy Walters; eldest daughter, Katharine Melaine Jones; eldest son, Daniel W. Walters; youngest son, David M. Walters; youngest daughter, Geneva L. Walters; grandsons, Terrance Walters and Caden Jones; and granddaughter, Adriana Jones.
Service was at 3 p.m. on Thursday, Oct. 27, 2022, at Kehl's Legacy Funeral Home, 11621 Old Seward Highway in Anchorage.
From Anchorage Daily News, October 26, 2022
From Kehl's Legacy Funeral Home, Anchorage, AK