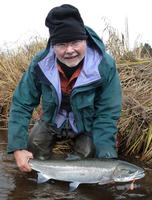 Charles Richard Edmiston
August 10, 1953 - December 7, 2022
It is with great sadness that I announce the passing of Charles Richard Edmiston 12/7/22. His burial will be Saturday 12/10/22 in Eldorado Texas at the Eldorado cemetery 1:00 PM with Pastor, grave site service only. He passed peacefully after a four year struggle with cancer.
Charles studied atTexas Tech University. He worked in the engineering department of Alyeska as a senior estimator in the 1980s and 90s on George Heywood's Project Controls team. Charlie enjoyed his work at APSC, ConocoPhillips and BP. His hobbies were collecting firearms and fly fishing. He loved floating and fishing Alaska rivers.
He was preceeded in death by his wife JoAnn Edmiston who passed in 2014, also due to cancer. His survivors include brothers William Michael Edmiston and Steven Lynn Edmiston, and sister Kathryn Ann Smith. He will be missed by all who knew him.
--------------------------------------------------------
Provided by Michael McGehee
Love Funeral Home of Eldorado, TX