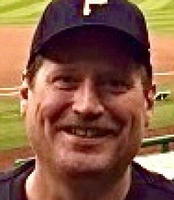 Russell William Bonar
December 11, 1961 - December 11, 2022
Russell William Bonar, 61 passed away quietly and unexpectedly in his home in Wellsburg, West Virginia December 11, 2022.
Russell, who graduated from Brooke High School in 1980, received a Bachelor's Degree from WVU in Mechanical Engineering, then moved on to Alaska and spent the major part of his life employed with the Alaskan Pipeline in supervisory positions. With excessive drive and personality, he was an outstanding student and award-winning swimmer in high school, president of his fraternity at college and a leader in his employment.

He loved and enjoyed his three sons, Michael, Christopher and Jonathan, who are now grown men, successfully employed in Alaska.

In his young years he enjoyed the many cousins who came to town on the Fourth-of-July. The backyard picnics, gangs sleeping on the floors, racing through the town – those were the days he still talked about.

His family, who loves him, greatly grieves his early departure. He leaves behind his parents, James and Mary Jean Bonar of Wellsburg, his sisters, Carol Couch of Okatie, SC and Marianne Cunningham of Wellsburg. Comfort comes in the belief that he is being welcomed by Jesus and greeted by his young sister, Diane Elizabeth and much-loved elder relatives who preceded him to the Heavenly Gates.

There will be no visitation. Interment will be held privately at the Franklin Cemetery in Brooke County.

Chambers Funeral Home, Wellsburg, WV (304)737-3551 assisted the family, please add or view condolences, photos and stories at www.chambersandjames.com..
Russell Bonar Obituary - Wellsburg, WV | Chambers and James Funeral Homes,