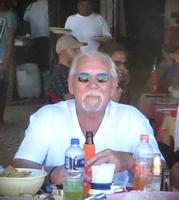 Robert (Bob) Clay Vaden
May 1, 1951 - March 13, 2023
It is with a heavy heart that we announce the death of Bob.
Bob was a beloved husband to Lisa, father to Chris (Rhonda), daughter Johna and grandchildren Cross, Jada, and Boo.
Bob is survived by brother Lee (Kelly) Vaden and sisters Sophie Herbstreit and Peggy Vaden Edmonds; and was preceded in death by his parents Robert and Minerva Vaden and brother Johnny King Vaden.
Bob was born and raised in Tennessee and made his living on the Alyeska Pipeline in the Operating Engineers Union 302.
Bob was an avid golfer and old car collector (especially Chevy's). He loved the sun and the beach and was a true southern gentleman.
Bob was a wonderful friend to many with a smile as big as the sun. Bob's kindness and loving way will be missed and treasured forever by those who knew him.
Bob's Celebration of Life will be at the Saddle Sore on April 8, 2023 at 2pm.
Bob's final resting place will be Maggard Holler Tennessee with services being held there.
Published on May 18, 2023 by Bell Tower Funeral Home & Crematory - Post Falls, ID