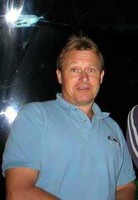 Afterr a long, long, long struggle with multiple sclerosis, Jerry Mehlberg, age 61, is free of his battered, diseased mortal body and has turned it in for a halo. He died on June 21, 2015 in Valdez - a place he loved with all of his heart. He leaves behind his wife of 40 years, Mary, two sons, Sheldon Mehlberg (Amber) of Valdez and Jacob Mehlberg (Connie) of Chandler, Arizona and five spectacular grandchildren; Wyatt and Ashley of Valdez, Carter, Averi, and Brooke of Chandler. Jerry is further survived by two sisters; Peggy Krueger (Roger), Cindy Lanter (Todd); brother Ron Mehlberg (Deborah) in Wisconsin; numerous family members and many special friends.
Jerry was born January 19, 1954 in Clintonville, Wisconsin, the son of Leslie and Mickey (Germaine) Mehlberg of Caroline. He was a former member of Zion Lutheran Church in Caroline and a member of Saint Francis Xavier Catholic church in Valdez. Jerry graduated from Marion High School in 1972 and completed a five-year plumbing apprenticeship, and married his high school sweetheart, Mary.
Jerry began his work career by working for his idol, Leslie Mehlberg, who Jerry modeled his lifelong work ethic after. He was employed by Watters Plumbing, briefly self-employed as a Journeyman Plumber in Valdez, and then employed as a Maintenance Tech, OCC Controller and Planner at Alyeska Pipeline Company for 20 years - a company he loved.
Jerry loved adventure. After the birth of sons, and finishing his plumbing apprenticeship, he swept up his family and moved to Alaska in 1981 where the adventure of his life began. He learned to downhill and cross-country ski, taking winter trips over glaciers on mountaineering adventures, snowmachining, and loved rafting and canoeing. Jerry and Mary built and remodeled several homes in Wisconsin, Alaska, and Arizona and purchased his dream wilderness property on the historic gold rush trail on Klutina Lake. Jerry carved a full size grizzly bear out of stone and many wood projects. He enjoyed his John Deere tractor, instituted a no smoking initiative in Valdez, enjoyed moose, caribou and bear hunting, boating in the bay, camping trips, and "living his Alaska dream." Jerry invented countless things...some worked...some were disasters but one of his mottos was." I CAN MAKE IT MYSELF". He Jerry-rigged everything with the life-long motto of FINISH NOTHING!
There are two services for Jerry. The first in Caroline, Wisconsin on Saturday, July 11, 2015 at 11:00 a.m. at Zion Lutheran Church and in Valdez on August 5, at 4:30 p.m. at Saint Francis Xavier Catholic church with Father Frank Reitter presiding. A reception will follow at the Elks Hall where we invite you to come and share your stories of this amazing man and celebrate Jerry's life.
Per Jerry's wishes, his ashes will be scattered in the Mehlberg hunting hardwoods and his wilderness property on Klutina Lake.
Published in the Valdez Star on July 1, 2015