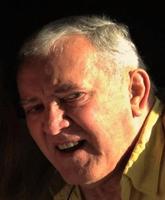 Gerald "Jerry" Eugene Miller
May 19, 1941 - September 19, 2014
Gerald "Jerry" Eugene Miller was born on May 19, 1941, and passed away on Sept. 19, 2014.
Jerry headed up the Alcan upon his Nebraska high school graduation in 1959, and embarked on lifelong Alaskan adventures, reveling in all the last frontier offered him. He regularly exercised his thirst for learning and love of science, always actively creating and improving. From his earliest days employing some of the first scuba diving gear ever seen in the state, to his final years inventing endless creative comforts into the family's Wrangell Mountains homestead, Jerry embraced his Alaskan life with zest.
Jerry enjoyed many occupations and passions in his 55 years in Alaska. He surveyed for BLM, where, being the youngest, he would first jump from the helicopter to cut a landing pad. Miller went on to earn A&P licenses in 1967, and became Wein Airlines' lead mechanic, regularly dispatched all over the state to recover damaged aircraft. He indulged his love of flying with a series of airplanes.
Jerry's years in Fairbanks, Alaska, included river adventurers, gold prospecting and extensive building and rebuilding episodes following the 1967 flood. Wein relocated him to Anchorage, Alaska, but Jerry quickly exited, purchasing the McCarthy Lodge in December 1972, where he practiced many other trades and talents. Jerry generously shared his knowledge and wisdom. He reconstructed an antique hydraulic ram and provided water to the town. Jerry served on the original Kennecott Architectural Control Committee, and saved many McCarthy antiques and treasures. He added a bar to the McCarthy Lodge, utilizing recovered materials from the original Kennecott era Golden Saloon.
Jerry went to work in 1976 as Master Mechanic for the Southern District of the new Alyeska Pipeline Service Company.
Jerry and Judy wed in 1977 and raised their daughter, Jessica, at their Dan Creek homestead. Jerry developed extensive organic gardens, winning many awards at the Alaska State Fair and recently became a peony farmer. Jerry passed along his love of investigation to Jessica, who is pursuing a master's degree in oceanography and climate change, carrying on his legacy of an innovative Alaskan life, well lived.
Please sign the guestbook and leave remembrances at Janssen Funeral Homes.
Published by The Lima News on Oct. 12, 2014.