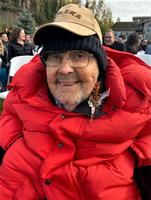 Larry Parsons Senseney
Aug 29, 1935 - Oct 24, 2021
Larry Parsons Senseney died peacefully in Palmer, Alaska, on Oct. 24, 2021, from complications of COVID-19. Born in Dawson Springs, Ky., on Aug. 29, 1935, to Lowrey and Olga Senseney, Larry was raised in Clarksville, Tenn. Being a little scrapper, he was nicknamed "Jack," after Jack Dempsey. Upon graduating from high school, he attended Austin Peay State University on a football scholarship, until joining the Air Force in 1954. He was stationed at Luke AFB, Ariz., where he met Jo Phillips on a blind date and they married in 1955. Soon after, Larry was hand-picked for Special Mission, Operation Flying Brothers.
After they moved to Itazuke AFB, Japan, the Senseneys welcomed their son, Jackson Lowry, in 1961. There, Larry specialized in aircraft maintenance and instrument tech, and enjoyed playing football as offensive lineman for the Air Force. While playing football, he sustained a traumatic brain injury, eventually leading to epilepsy, which he bravely endured for the rest of his life. Larry also completed his first tour of duty in Vietnam as a military advisor while in Japan. In 1963, the Senseneys were assigned to Edwards AFB, where Larry was so proud to work on the Saturn rocket engines for the Apollo space program. In 1964, their daughter, Mandy Jo, was born and, in 1967, Larry served his second tour of duty in Vietnam.
In 1969, the family relocated to Elmendorf AFB, where Larry managed the Precision Measurement Equipment Laboratory, and traveled Alaska, servicing White Alice Communication System sites. He received many medals and decorations while in the military, including the Air Force Meritorious Service Award, the Bronze Star and the Silver Star; he was honorably discharged as Senior Master Sergeant in 1977. Larry then began his job with Alyeska Pipeline, supervising Pump Station 10, thrilled to be present for first oil; he later worked in the training department in Anchorage until retirement. He then became a dedicated volunteer at the Alaska Veterans Administration, giving over 20 years of support to the Armed Forces. In 2017, he moved from Anchorage to the Alaska Veterans and Pioneer Home in Palmer, where he was truly happy.
Throughout his life, Larry loved people of all races and religions, and remained dedicated to his loved ones and his "gang" of extended family and friends. He loved being a grandfather and was Grandpa Larry to so many young people. He endeavored to make people smile and feel loved, and though he dealt with epilepsy and chronic pain on a daily basis, Larry kept a smile on his face, working hard at "enjoying life." When he made his home in Palmer, he got a set of bongos, joining in whenever asked by musicians playing at the Pioneer Home. And he loved to dance; he is known from Tennessee to Talkeetna as the "Dancing Machine." He also enjoyed fancy espresso coffees, to the point where a local coffee shop named a drink, "The Larry Senseney." He would often drive his red be-flagged scooter to the coffee stand, returning home with the basket full of coffees for workers and friends. Larry was very outgoing and will be remembered for his devotion to family, his generous heart, mischievous smile, infectious laugh and his love of God.
In his immediate family, Larry is preceded in death by his parents; brother, Harold and wife Virginia Senseney; sister and husband, Beverly Rose and Ray Baker; brother-in-law, Robert Phillips; niece, Mona Lisa; and nephew, Phillip Bellah. He is survived by his son, Jackson and wife Kayce Senseney; daughter, Mandy Jo and husband Jerry Hartley; grandchildren, Heidi Jo and husband Andy Lean, Jacob and wife Annelise Hartley, Elijah Hartley, Emily Hartley and Bernadette Hartley; great-grandchildren, Clara Jo and Nora Lean, Jo and Jack McCarl; niece, Sandra and husband Ricky Walker; nephew, Stevie Senseney and family; niece, Brenda Senseney; nephew, Fred Phillips and family; sister-in-law, Adrianna and husband Bob Bellah and family; and many beloved nieces, nephews, cousins and friends in Tennessee, Kentucky, North Carolina, Florida, and his Alaska "gang."
A Celebration of Life will be held on Saturday, Nov. 13, 2021, from 2-4 p.m., at Janssen's Mat-Su Funeral Home, 6901 East Lupine Drive in Palmer. Mr. Senseney will be laid to rest with full military honors at Fort Rich National Cemetery on Monday, Nov. 15, 2021.
In lieu of Flowers, please donate to the Alaskan Veterans and Pioneer Home, Attn: Grandpa Larry Music Fund, 250 E. Fireweed Ave., Palmer, AK 99645; 907-745-4241.

Published November 10, 2021 in Anchorage Daily News.
Published November 9, 2021 in Frontiersman