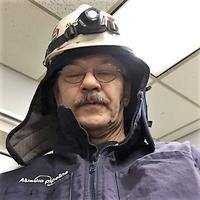 Louis "Lou" S. Zielinski
- December 30,2021
-----Alyeska Corporate Communications---Thursday, January 6, 2022-----------------------------
It is with regret that we inform you of the passing of former Alyeska employee Louis "Lou" S. Zielinski on December 30, 2021. Lou joined Alyeska on July 9, 1991, as a Pipeline Mechanical Technician, assigned to the northern end of the line. He worked at several pump stations during his career, eventually returning north and remaining at PS01 until his retirement on February 22, 2016.
Lou is survived by his wife Kari. Condolences and memories can be sent to Kari at svpassport@gmail.com. Kari plans a celebration of life for Lou in late August in Alaska, and expects to be able to share details by early summer.
Click HERE for more Lou Zielinski photos.