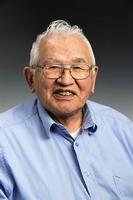 Roy Tansy Sr.
March 16, 1934 - January 10, 2021
Ahtna Elder Roy Tansy Sr. passed away at the age of 86 on January 10, 2021 at the Fairbanks Memorial Hospital in Fairbanks, Alaska. Mr. Tansy was born in 1934 at Valdez Creek. He was a member of the Native Village of Cantwell (Yedatene Na – "River behind the mountain") and the Naltsiine (Sky) clan. He was married for 41 years to the love of his life, the late Irene Widmark Tansy, who shared his zest for life and adventure. They raised three children together in Copper Center, Alaska: Carmel Read, Roy J Tansy Jr. and Douglas Tansy.
A beloved former Ahtna, Inc., president and veteran board member, Mr. Tansy was passionate about helping the next generation to take over the company and passing on cultural and traditional ways. He grew up hunting and fishing in the Brushkana area near Cantwell and credited his dad with teaching him traditional ways of living off the land.
Mr. Tansy worked in the oil and gas industry for nearly 30 years and was a member of the 302 Operators Union. He stood up for Ahtna's rights when it came to development in the region, such as the Trans Alaska Pipeline System which crosses over 197 miles of Ahtna's traditional territory. As he so elegantly put it, "We shall prevail for it is our land and our cause is just!"
Mr. Tansy encouraged regional development projects that would provide benefits to shareholders, promote growth in the region and bring opportunities to the Ahtna people. Ken Johns, chairman of the Ahtna, Inc. Board of Directors remarked, "We will be forever grateful for Roy's leadership and forethought and will carry on his noble work for the benefit of future generations of Ahtna people."
About Roy Tansy Sr.
Mr. Tansy was born on March 16, 1934 and raised in Cantwell, Alaska. He served on the Ahtna, Inc. Board of Directors off and on for 40 years, most recently in 2018, as well as on many cAhtna subsidiary boards and committees. He also served as the president of Ahtna, Inc. (1979) and Ahtna Development Corporation. Mr. Tansy was heavily involved in the Ahtna region as an Elder advisor for the Ahtna Heritage Foundation, member of the Cantwell Joint Successor Village Organization and past board member of the Native Village of Cantwell, Fairbanks Native Association and Tanana Chiefs Conference. He was involved in early warning protection for the US Air Force during the Cold War and worked for the Alaska Road Commission. Mr. Tansy worked on the Trans Alaska Pipeline System during its construction in 1974 up until his retirement from the 302 Operators Union in 2002. He held an Associate Accounting Degree from Sawyer Business College in Los Angeles, CA.h
Published on January 12, 2021 on Ahtna