Welcome to the


Alyeska Pipeline People Webpage!
A gathering spot for Alyeska Pipeline People, past or present, contract or direct. If you worked for Alyeska and were issued a badge, or you were part of construction or startup - CLICK HERE TO JOIN. Include some info about your work at Alyeska, like when, where, etc. If you weren't issued an Alyeska badge but still wish to join in, use "Contact Us" to send me a note. We can chat. Larry Motschenbacher
Questions? Forget your log-on, email, or password, drop me a line. Use Contact Us.
Note: Click human silhouette symbol in the upper right corner to update your contact info, profile info, & change your password.

We added a couple early Insiders to AlyeskaAritifacts.com. Be sure to check out "695 Years of Experience: Alyeska Honors it's 15 Year Employees," with photos in this issue: 1990 11/16 INSIDER
If you would like to see more early Insiders, either leave a comment on the Message Form or Leave a Reply beneath the Newsletters.
---
We have received word that
Wilma Knox
passed away June, 2015
We have received word that
Ted Payment
passed away June 11, 2017
---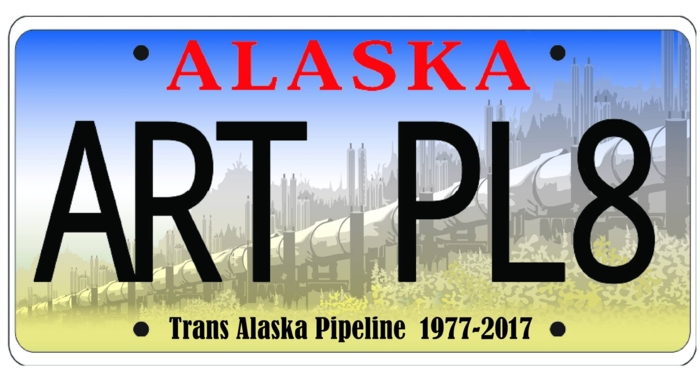 Dave Norton's "Alaska Artistic Licence Plate Contest" Entry
I called State Representative Jonathan Kreiss-Tomkins, one of the key sponcers supporting this contest, and learned the winning license plate design will be selected by a Celebrity Jury and announced on June 30.
Update (June 27, 2017): Applications for the 2017 Alaska Artistic License Plate contest are now closed. The celebrity panel is currently in the process of narrowing down the submissions to a set of finalists. Once the finalists have been picked, public voting to select the final design will begin. Check back for more updates in the coming weeks! Upates on the contest can be view at Alaska Artistic Plate Contest.
---
Note: This website is not affiliated with
Alyeska Pipeline Service Company
---
Military Veterans & In Memory pages, along with comments shared there, are viewable by family, friends and others who visit the website. Message Forum & Pipeline Profile pages are viewable only by AlyeskaPipelinePeople.com members.
ANNOUNCEMENTS
CONTENT CONTRIBUTORS - Please extend a special thanks to the many who contribute to the website. Examples over the last month or so, include: Gaye Hunt, Ben Holeman, Gordan Anderson, John Renfroe, Patti Altom, Gordon Anderson, Ben Holeman, Mel Jesse, Patti Altom, Darell Ottoson, Pat McDevitt, Darell Ottoson, Gordon Anderson, Cyrinda Hoffman, Jesse Warner, Peggy Rotan, Gordon Anderson, John Draper, Gordan Anderson, Ben Holeman, Mel Jesse, Bill Frichtl ....
Members who recently joined:
Fred Nelius 7/16
Chris Jones 7/16
Shawn Barnes 6/26
Kim Flaherty 6/22
Jim Kinrea 6/22
Glenn Morrison 6/21
Don Ambuehl 6/20
Michele Martin 6/12
Greg Tang 6/12
Greg Kinney 5/27
Lew Erhart 5/27
Anita Maas Adams 5/26
Ray Grubb 5/26
Robert Latto 5/26
Leif Hartlen 5/25
Jim Plaquet 5/25
Frances Lambert 5/5
Steven Lamatta 5/5
---
Most recent additions to the "In Memory" section:
Ted Payment (1937-2017)
Janet Guerra (1958-2017)
Les Alldridge (1946-2017)
Dave Luke (1944-2017)
Jim Clark (1950-2016)
Allen D Albright (1931-2017)
Gerald Evans (1940-2016)
Ray Seeptomona (1937- 2003)
Ivan L Henman (1933-2017)
Edward A Reed (1940-1988)
George A Schlegel (1934-2017)
John Freie (1926-2017)
Ernest Lee Collins Sr (1930-2017)
Don "Mike" Rotan (1942-2005)
Richard V. Shafer (1930-2000)
Royal Wisemore (1928-2000)
Hagen Gauss (1940-2017)
Wayne Rockne (1926-2016)
Yancey Thompson (1959-2016)
Guy Leonard (1955-2016)
Ronald Wolk, Sr. (1938-2016)
Dennis Marascola (1949-2016)
Brenda Bentley (1957-2016)
Joe Kronk (1934-2016)
Joseph Willing (1925-2016)