Welcome to the


Alyeska Pipeline People Webpage!
A gathering spot for Alyeska Pipeline People, past or present, contract or direct. If you worked for Alyeska and were issued a badge, or you were part of construction or startup - CLICK HERE TO JOIN. Include some info about your work at Alyeska, like when, where, etc. If you weren't issued an Alyeska badge but still wish to join in, use "Contact Us" to send me a note. We can chat. Larry Motschenbacher
Questions? Forget your log-on email or password, drop me a line. Use Contact Us.
Note: Click human silhouette symbol in the upper right corner to update your contact info, profile info, & change your password.
---
We have received word that
David Luke
passed away May 15, 2017

Funeral service at 12:30 p.m. on Saturday, May 20, 2017, at St. Benedict Church
---
We have received word that
Jim Clark
passed away September 13, 2016
---
Dave Norton's "Alaska Artistic Licence Plate Contest" Entry
I called State Representative Jonathan Kreiss-Tomkins, one of the key sponcers supporting this contest, and learned the winning license plate design will be selected by a Celebrity Jury and announced on June 30.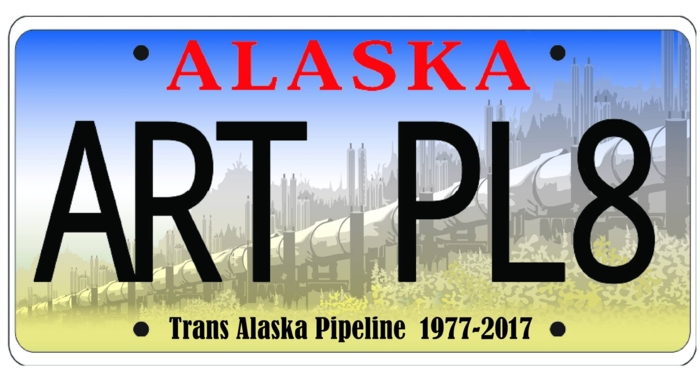 ---
---
We have received word that
Gerald Evans
passed away June 28, 2016
---
How about sharing a good pipeline story or two? I've heard many of you tell some great ones. Larry Motschenbacher
Share your TAPS memories as Alyeska celebrates 40 years of operations!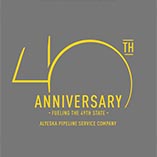 TAPS' 40th anniversary of operations arrives June 20, 2017, and Alyeska is commemorating the milestone all year. At the heart of this celebration are the memories and voices of those who helped build, operate and maintain the pipeline, and the stories of people, families, businesses and communities with unique ties to TAPS. What's your pipeline story?
What are your favorite moments working on TAPS?
What has TAPS meant to you and your family?
What's your vision for the next 40 years of TAPS operations?
How has TAPS impacted your community and Alaska?
Share memories, stories and photos by emailing them to TAPS40@alyeska-pipeline.com. All submissions will be entered in a random drawing for very special TAPS 40th anniversary prizes! Alyeska's Corporate Communications team will contact you for more information if they plan to use your content. #mypipelinestory #40more #TAPSPRIDE ---
Josh Niva
Electronic Content Specialist
Corporate Communications
Alyeska Pipeline Service Company
1-907-787-8678
3700 Centerpoint Drive Anchorage, AK 99503
---
Note: This website is not affiliated with
Alyeska Pipeline Service Company
---
Military Veterans & In Memory pages, along with comments shared there, are viewable by family, friends and others who visit the website. Message Forum & Pipeline Profile pages are viewable only by AlyeskaPipelinePeople.com members.
ANNOUNCEMENTS
CONTENT CONTRIBUTORS - Please extend a special thanks to the many who contribute to the website. Examples over the last month or so, include: Gordan Anderson, John Renfroe, Patti Altom, Gordon Anderson, Ben Holeman, Mel Jesse, Patti Altom, Darell Ottoson, Pat McDevitt, Darell Ottoson, Gordon Anderson, Cyrinda Hoffman, Jesse Warner, Peggy Rotan, Gordon Anderson, John Draper, Gordan Anderson, Ben Holeman, Mel Jesse, Bill Frichtl ....
Members who recently joined:
Frances Lambert 5/5
Steven Lamatta 5/5
Mary Ellen Rynes 4/24
Larry Nobis 4/19
Jeannette Stepovich 4/16
Vern Hilderbrand 4/7
Tom Rensch 4/2
John Hanson 3/29
Keith Meyer 3/29
Janet Wood 3/23
Ronald Ruff 3/19
Jonathan Goold 3/17
Marjorie Nicoles-Baran 3/9
Issac Anderson 3/2
David Marquez 2/28
---
Most recent additions to the "In Memory" section:
Jim Clark (1950-2016)
Allen D Albright (1931-2017)
Gerald Evans (1940-2016)
Ray Seeptomona (1937- 2003)
Ivan L Henman (1933-2017)
Edward A Reed (1940-1988)
George A Schlegel (1934-2017)
John Freie (1926-2017)
Ernest Lee Collins Sr (1930-2017)
Don "Mike" Rotan (1942-2005)
Richard V. Shafer (1930-2000)
Royal Wisemore (1928-2000)
Hagen Gauss (1940-2017)
Wayne Rockne (1926-2016)
Yancey Thompson (1959-2016)
Guy Leonard (1955-2016)
Ronald Wolk, Sr. (1938-2016)
Dennis Marascola (1949-2016)
Brenda Bentley (1957-2016)
Joe Kronk (1934-2016)
Joseph Willing (1925-2016)