Welcome to the


Alyeska Pipeline People Webpage!
A gathering spot for Alyeska Pipeline People, past or present, contract or direct. If you worked for Alyeska and were issued a badge, or you were part of construction or startup - CLICK HERE TO JOIN. Include some info about your work at Alyeska, like when, where, etc. If you weren't issued an Alyeska badge but still wish to join in, use "Contact Us" to send me a note. We can chat. Larry Motschenbacher
---
Howard Thomas shared this picture from a 1977 newsline. (This will move to Construction Era Startup later)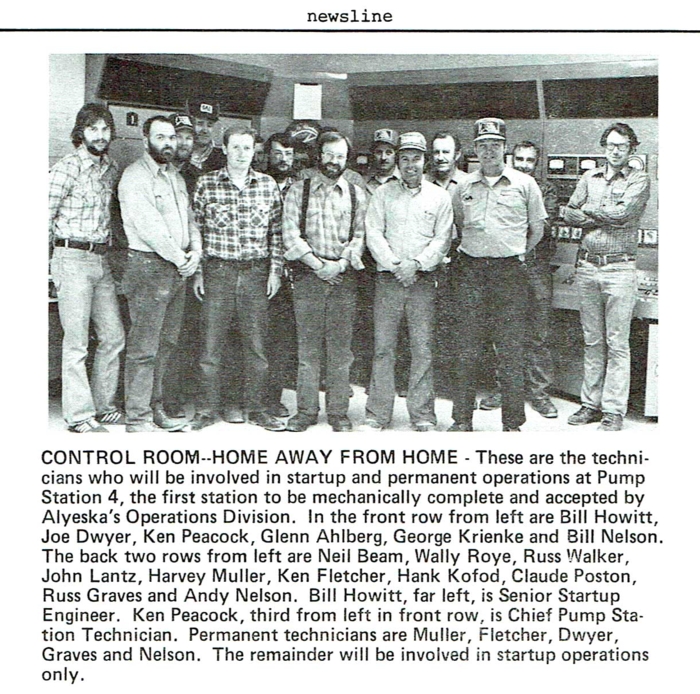 ---
Note: Click human silhouette symbol in the upper right corner to update your address, contact info, profile info, or change your password.
---
---
We have received word that
Mike Metz
passed away March 27, 2017
There will be a celebration of his life at his home in Hurricane, Utah November 3-5, 2017. (See In Memory page for details.)
---
We have received word that
Maynard Tapp
passed away September 12, 2017
---
Here is an Aleyska video that was a favorite of many, including me. Click on the title, A Pipeline and Animals! or go to the side menu, select: Alyeska Videos, then Overview & History, and then scroll to the bottom of the page.
Macey "Butch" Shapiro, who was there when the famous Mel Blanc arrived to narrate the video, and shared this, "The day he came through he was in a limo with two beautiful girls with him. He rolled down the window and I said well, that's all folks. Haha, of course he replied..." (Well, just listen below.)
---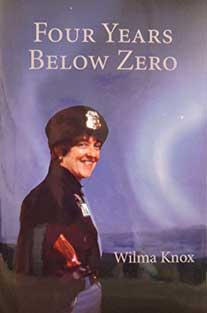 Free book for Construction Era Workers.
Please go to the In Memory page for Wilma Knox for details and how to get your copy. Her husband really wants to send these books to you as it was Wilma's wish that you have them. I've already received a copy. If the first few pages are any indication, the books going to be a good read.
---
Questions? Forget your log-on, email, or password, drop me a line. Use Contact Us.
---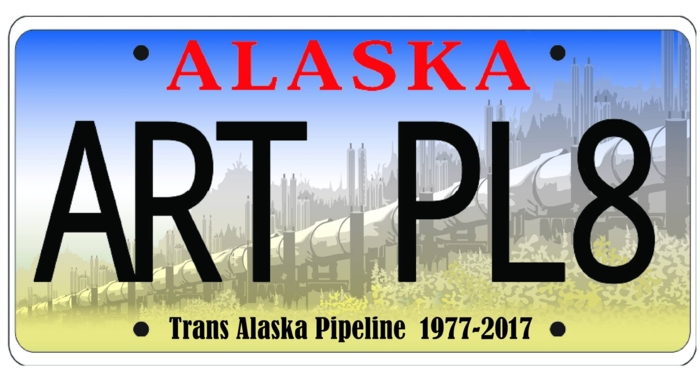 Alaskan's of all ages can vote on which plate will be used the next four years:
Vote - Alaska Artistic Plate Contest.
---
Note: This website is not affiliated with
Alyeska Pipeline Service Company
---
Military Veterans & In Memory pages, along with comments shared there, are viewable by family, friends and others who visit the website. Message Forum & Pipeline Profile pages are viewable only by AlyeskaPipelinePeople.com members.
ANNOUNCEMENTS
CONTENT CONTRIBUTORS - Please extend a special thanks to the many who contribute to the website. Examples over the last month or so, include: Howard Thomas, Patti Altom, Dave Norton, Andi Postishek, Macey Shapiro, Glenn Meidinger, Gaye Hunt, Ben Holeman, Gordan Anderson, John Renfroe, Patti Altom, Gordon Anderson, Ben Holeman, Mel Jesse, Patti Altom, Darell Ottoson, Pat McDevitt, Darell Ottoson, Gordon Anderson, Cyrinda Hoffman, Jesse Warner
Members who recently joined:
Joanne Munns 10/20
David Wells 9/26
Casimer Koscielski 9/21
Randy Redmond 9/12
Ed Clarke 9/10
Kathy Corey Beltran 9/7
Janet Mangan McCart 9/7
Larry McIntosh 8/19
Susan Arnout Smith 8/9
Stanley Gerhauser 8/2
Myron Igtanloc 8/1
Greg Tang 7/17
Clara King 7/17
Fred Nelius 7/16
---
Most recent additions to the "In Memory" section:
Michael C Metz ( -2017)
Maynard Tapp (1947-2017)
Casey Joseph Ahkvaluk (1963-2017)
Wilma Knox (1920-2015)
Ted Payment (1937-2017)
Janet Guerra (1958-2017)
Les Alldridge (1946-2017)
Dave Luke (1944-2017)
Jim Clark (1950-2016)
Allen D Albright (1931-2017)
Gerald Evans (1940-2016)
Ray Seeptomona (1937- 2003)
Ivan L Henman (1933-2017)
Edward A Reed (1940-1988)
George A Schlegel (1934-2017)
John Freie (1926-2017)
Ernest Lee Collins Sr (1930-2017)
Don "Mike" Rotan (1942-2005)
Richard V. Shafer (1930-2000)
Royal Wisemore (1928-2000)
Hagen Gauss (1940-2017)
Wayne Rockne (1926-2016)
Yancey Thompson (1959-2016)
Guy Leonard (1955-2016)
Ronald Wolk, Sr. (1938-2016)
Dennis Marascola (1949-2016)
Brenda Bentley (1957-2016)
Joe Kronk (1934-2016)
Joseph Willing (1925-2016)