Welcome to the


Alyeska Pipeline People Webpage!
A gathering spot for Alyeska Pipeline People, past or present, contract or direct. If you worked for Alyeska and were issued a badge, or you were part of construction or startup - CLICK HERE TO JOIN. Include some info about your work at Alyeska, like when, where, etc. If you weren't issued an Alyeska badge but still wish to join, use "Contact Us" to send me a note. We can chat. Larry Motschenbacher
Tom Stokes appointed acting director of Division of Oil & Gas
From Petroleum News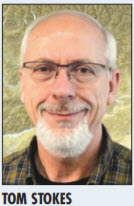 Tom Stokes was appointed acting director of the Alaska Department of Natural Resources' Division of Oil and Gas on Oct. 28, DNR Commissioner Corri Feige told Petroleum News Oct. 30.
Stokes had been the department's state pipeline coordinator, and before that worked 28 years for Alyeska Pipeline Service Co. in support, compliance and operational assignments including director of the Valdez Marine Terminal and director of compliance.
In his role as acting division director, Stokes will supervise exploration licensing, lease sales, unit management, permitting, royalty accounting, royalty audit, resource evaluation, commercial activities and the State Pipeline Coordinator's section.
Stokes earned a bachelor's and master's degree in business administration from the University of Southern California and the University of South Dakota, respectively. He also served in the U.S. Army as an artillery officer.
The previous acting director was Jim Beckham, who had taken over in March for former division Director Chantal Walsh.
- Kay Cashman
---
---
---
---
Updates: Click the human silhouette symbol in upper right corner. Select "Edit Your Contact Info" to edit your name, address, email, etc. Select "Update Profile" to edit work history, military service, etc.
---
Questions? Forget your password? Use Contact Us to drop me a line.
Note: This website is not affiliated with
Alyeska Pipeline Service Company
---
Military Veterans & In Memory pages, along with comments shared there, are viewable by family, friends and others who visit the website. Message Forum & Pipeline Profile pages are viewable only by AlyeskaPipelinePeople.com members.